The ever changing healthcare system has restructured me into a new opportunity.
I have the chance to spend some time focusing on some passion projects and leave the medical charting world….at least for awhile.
If you have followed me long enough, you know that this is not the first time that I have been fired, let go…my position has been eliminated. (Fired by Shakespeare)
The last surprise vacation, I was still on antibiotics for Lyme and vowed to rest and recover.  I did rest, somewhat.  I started perusing job postings and developing a plan almost immediately. I logged about a month of being off antibiotics before I started back to work.
Since I am feeling much better than I did then, I am going into my unplanned vacation with a little more confidence.  I have a plan.  Not one in stone, more like firm Jello.
Over the past couple months, I started to have some ideas for inventions.  The first is already in the: writing a patent application phase.  The other two ideas are not yet inventions.  They are bubbling around my head with a hundred variables of how to approach a problem.  Now is the time to really focus on them.  My hope is that I can get them developed enough that I can get to at least the "patent pending" stage on all of them prior to having to return to work.  Of course, it would be great if that happened more quickly and the first companies I pitch were in shock at my genius and just started throwing money, begging me to allow them the honor of producing my world changing items.  I have assigned myself next Monday as the day to send the second sprout over to my intellectual property (IP) attorney.  I needed to set a date because the longer I work with it, the more complicated I am making it.  Also, I want to make sure that I do not send it too early.  More than once, I was going to send something over that would have lacked enough detail, wasting everyone's time.  It is much more complicated than the first sprout, so I need to make sure that I present it properly and in a much more organized way than what is going on in my head.
In the mean time, I am also painting more.  It's fun experimenting with different techniques and learning a lot along the way.  The product is being altered in Light room and/or Photoshop to try to clean it up a bit and to morph it into something that can be put on a shirt, poster, key chain, mouse pad….whatever.
I have a store on Zazzle that has a few different groupings or collections.  The one with more of the painting based ones are here:  Active Art
Sites like this are not really big money makers for most people.  It is a way to share things that I create and if I tag them right, maybe I can make a few bucks while I hustle for licensing deals.  Can't wait for ugly sweater season to approach.  I'll have to come up with a few for that. Maybe Benny will get a new look.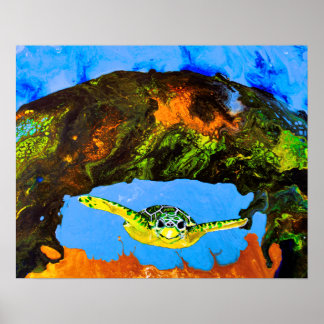 BTW–If I can't get a nibble from a company about one of the sprouts, I may try some social media stuff to see if anyone would be interested in it.  Stay tuned….but it may be a couple.
The storm outside is building up a second blow, so I am going to publish before I lose internet again.